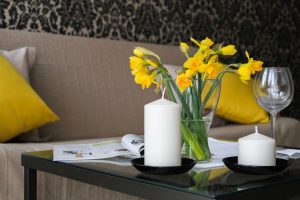 Everyone can use an interior decorator.
Stop. I know what you're thinking.
Hiring an interior decorator just seems so… frivolous and unnecessary.
But is it?
Do you set high standards for yourself?
Do you take care of your body? Do you mind your diet and are you careful about what you eat? Do you have a personal trainer?
What about the company you keep? Perhaps you're selective about who you let into your inner circle. After all, the people who surround you have a profound effect on you emotionally, intellectually, and spiritually.
And hopefully, you're also careful of what you fill your mind with – the books you read, the shows you watch, and the conversations you engage in.
You decide where to spend your time, your focus. After all, these are limited, valuable resources. You would never squander them.
So if your body, mind, and wellness are important to you, why wouldn't you also take care of your surroundings?
Your home is where you spend most of your time, and where you go to recharge. Your home is your sanctuary. It's sacred. Why wouldn't you take great care to create a space that elevates your mindset so that you can live a lifestyle that is in alignment with your values and priorities?
And why wouldn't you consider hiring an interior decorator – a professional – to assist you to take on this all-important task?
Is managing your stress and comfort levels frivolous? Is elevating your mood unnecessary? Because this is what hiring a professional interior decorator can do for you.
Think about the last time you walked into a space that was professionally decorated. Perhaps it was when you were in a home that was prepped for sale or lease.
How did that space make you feel? Lighter? Calmer? Inspired?
As an interior decorator, I wish I had a dollar for all the homes I prepped for sale, only to hear the current owner exclaim, "This is so beautiful! Why on Earth didn't I do this for myself?"
Interior decorators are for everyone.
Need convincing? Here are 10 reasons everyone needs an interior decorator…
1. Interior decorators cover a range of services
Don't be too quick to judge what an interior decorator can do for you. We wear many hats.
Maybe you need some assistance picking the right colour scheme for your space.
Or maybe furniture placement is where you need help.
Or maybe you need to start from scratch, and need help envisioning and decorating an entire room (or several rooms).
Whatever your situation, there is a decorator for you.
Furthermore, an unbiased decorator can step in as a mediator, counsellor, and – dare I say it – a sort of psychotherapist when it comes to finding design and décor solutions.
Creating a living space should be a relaxed and inspiring experience, so let a professional decorator handle the grunt work and details!
2. Interior decorators save you time
Your time is precious. Why would you waste it?
Trial and error takes up time. It can also be frustrating.
A professional decorator has a trained eye to accurately and quickly assess your design needs, and then act accordingly.
As decorators, we have seen countless layouts and variations and have had to come up with solutions each and every time, so of course we can do this at an efficient pace.
3. Interior decorators know the rules of décor
Good design entails a LOT of rules.
Some of these rules can be broken, and some of them should never be broken.
Want show-stopping décor? Know when to break the rules!
A great decorator knows how to combine the right balance, scale, and proportion with beautiful pieces for that coveted "wow" factor!
4. Interior decorators come with great networks
When you hire a well-established interior decorator, you are connected to all the people she knows and works with.
Decorators spend years cultivating and nurturing their professional network, and for good reason.
Décor is not a solo act.
Great decorators come with great connections. This means they can recommend excellent and reliable tradespeople and vendors which will save you time, money, and heartache in the long run.
A smart interior decorator will take her reputation seriously, which means she will only recommend and refer tradespeople and vendors that can uphold her reputation.
5. Interior decorators have lots of resources
The thing about decorators – we love to shop.
Scratch that.
We need to shop. And not just because it's fun, either. Our livelihood depends on it.
My team and I are constantly out shopping – whether it be for a specific client, to source new items, or to keep tabs on what's out there in the marketplace and what price points are reasonable.
When you hire a professional interior decorator, you suddenly have your finger on the pulse of the industry marketplace.
Why is this important? It matters because your space will be as unique and individual as you are. It will be tailor made to fit you and your needs and there won't be any other space out there like it.
6. Interior Decorators are expert communicators
The world of interior décor involves connection and liaison with contractors, architects, and various other tradespeople.
Communicating with these specialists can be a challenge if you don't speak the language of the industry.
It can be difficult making decisions based on the information they provide, only because you don't have the background knowledge or experience to make an informed decision.
Your interior decorator will take this pressure off your shoulders.
Making informed, possibly last-minute decisions, figuring out solutions to unforeseen setbacks, and managing all the various components of a design project are all part of a professional interior decorator's workday.
7. Interior decorators are expert planners
Don't you just love it when a plan comes together?
The secret to great execution is great planning.
Décor projects come in all shapes and sizes, and sometimes, it can be difficult to even know where to start. So how do you plan an elaborate décor project when you don't know where to start?
Fortunately, a professional decorator can break down a project into actionable tasks, and prioritize them in alignment with their client's goals and budget.
8. Interior decorators help you stay on budget
Interior decorators are extremely helpful when it comes to budgeting.
Remember, we are constantly scoping out items and staying on top of the marketplace and what things should cost.
If you have never renovated your home, or if you haven't bought a sofa in 20 years, you might be out of touch with what things cost nowadays. For this reason, an interior decorator can help you create and stay within budget.
Truth be told, spending more does not always equate better quality. A professional decorator can make recommendations based on your needs and budget so that you can avoid making purchases you'll regret later.
9. Interior decorators know how to add value to your home
Home purchases are largely based on an emotional connection with a space.
In other words, if you'd like to get a higher price for the sale of your home, your professional interior decorator can help by improving your home's functionality and aesthetics.
Think of professional décor as an investment when it's time to sell or lease your space.
10. Interior decorators can save your marriage
Okay, maybe saying I can save your relationship is a little overstated but…
The creative process is arduous. If you share a space with other people, conflicts can arise. Having a decorator in place to act as an unbiased moderator has its benefits.
Also, clients often focus on what they want A-Z but they forget about all the countless details and steps in between, and when these are overlooked, that's where mishaps often arise. A decorator can diffuse these conflicts and stressors before they happen.
Convinced yet? How about a free consultation to address any unanswered questions?
Contact Kristy Malone at Refining Design today!
Tel. 416.735.3500
Email. kristy@refiningdesign.ca