Recently, I came across a great episode of Scott McGillivray's show, "Moving the McGillivrays" that got me thinking about mancaves.
The HGTV series focuses on the adventures of Scott and his wife, Sabrina who have taken on the ambitious task of building their new home – an expansive project, which is essentially a rebuild rather than a redesign, from the ground up.
In this particular episode – titled "Mancave VS Femme-Den" – Scott and Sabrina zero in on designing spaces where they can each be alone and indulge in their own personal interests, or their mancave and femme-den, respectively.
Scott dreams of building the perfect carpenter's workshop for himself (a significant upgrade from his old workspace, which lacked appropriate storage space for his tools or a readily available table surface for his projects). Meanwhile, Sabrina has never even had a space of her own for crafts and schoolwork.
What I especially love about this episode is how both members of this obviously collaborative and engaged couple acknowledge the need for personal space.
It's really not an uncommon situation for modern families. Couples and families want to cohabitate, but they also crave a space of their own so that they can retreat and be alone once in a while. It's a basic, healthy, emotional need and it fosters happier relationships, among other benefits. Nothing wrong with that.
Hence, the rising popularity of mancaves and femme-dens.
Whether you live alone or with a partner, with or without children, you are entitled to a space that is just your own where you can express yourself, indulge in your hobbies, or even just relax and decompress. Everyone needs a place where they are able to get away from the outside world (and yes – that includes your beloved family).
I design a lot of these types of spaces for clients. As an interior decorator, I can appreciate the need for both man caves and femme-dens, and the need for a personal oasis, but what concerns me is the implied polarization of the male and female retreats.
The mancave and femme-den, whether intentionally or not, have become throwbacks to the traditional men/women spaces of generations past (which, don't get me wrong, I love these too) but… does every man need or want a space to watch sports on TV? Does every woman need or want a sewing room?
As an interior decorator, I want to help people understand how anyone can create a space that doesn't have to be stifled by these boundaries and restrictions!
Really, creating a personal space (such as a man cave or femme-den) is about 1) having your own space, 2) knowing how it will function best, and 3) knowing what style suits you the best!
Let's delve deeper into what it takes to create a perfect mancave…
Your space
In a perfect world, your mancave has restricted access to the outside world.
Ideally, it's a standalone space (like a garage). Now of course, this isn't always practical (and neither is constructing a moat filled with crocodiles) but it is entirely mentioning, to make a point.
The point is, you want your man cave to be somewhat secluded so you can have privacy. So that your space remains YOUR space. Maybe your mancave is situated in the basement, or maybe in a separate room that can be closed off with a sound-proof door.  Maybe it's just part of room that is separated with a room divider. You can get creative!
The idea is, you don't want invaders – remember the moat! It becomes really easy for a man cave or any personal space to become a storage area for other people's baggage – and I mean that both literally and figuratively. If you let your seasonal decorations get stored in your man cave, if your kids leave toys in your man cave, if your man cave regularly doubles as a spare room for an uninvited houseguest, guess what – your mancave has been infiltrated.
A private mancave is a perfect mancave Even if it's impractical or unaffordable to dig that moat, you want to keep that principle in mind.
Function
The secret to creating the perfect man cave is to make it all about you.
Not all about what your buddies want.
Or what your family wants.
Or what anybody else wants.
The man cave has to resonate with you, which means it may or may not make sense to anyone else.
And that's okay.
Actually, it's more than okay.
If your mancave appeals to too many people, you'll have more invaders to fend off, remember? See how this works?
So ask yourself, what's the function of your mancave?
Remember that a mancave is as individualistic as you.
The definition of a man cave has been relegated somewhat. We tend to automatically think of a space where a guy can sink into a giant leather couch and watch sports on a big screen without interruption. Maybe there's a mini fridge nearby.
That may be perfect for you, or maybe not.
Don't lock yourself into categories.
Don't succumb to stereotypes.
Men are not one dimensional animals and you may have wildly different interests or more specifically, a different desired function for your man cave.
What about a reading room or library? Or a walk-in humidor where you can enjoy cigars? Or a wine cellar and tasting room? Or a home gym? Or a meditation room?
Think beyond.
Think big.
Who you are as a man defines your mancave's function, not societal restrictions.
Style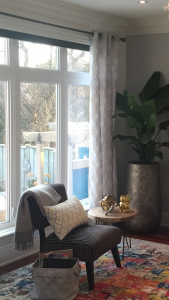 Style and function are two different things, but they work closely together.
While function is what you want your mancave to do for you, style appeals to  your emotional state.
In other words, use colours, textures, and shapes that speak to you on a gut level.
Again, every modern male is going to approach this differently.
Go with what works for you!
Bottom line: let this be a space that exudes your personality and one that you can be creative in!
Let's throw away all the labels and start fresh!
Perhaps that's the real issue – how we label the distinctions between mancaves and femme-dens.
Maybe we should have a generic label like "The Fe/Male Upscale" or "ZenPen" instead of mancave and femme-den. Perhaps that would open the potential of these spaces more.
What does your ZenPen look like? Tell me in a comment below!
By the way, if you're interested, you can watch the episode of "Moving the McGillivrays – Mancave VS Femme-Den" in its entirety here.